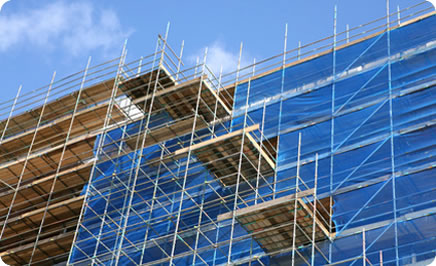 Turner Safety Solutions are now offering pull out testing on a variety of construction fixings:
Expanding Anchors
Resin Anchors
Screw Fixings
Frame Anchors
Remedial Wall Ties
Cast-in Sockets & Channel
Safety Harness Eyebolts
Scaffold Ties
All tests up to 25kN are carried out using calibrated Hydra-Jaws testing equipment.
Tests to ultimate or proof loads
All gauges fitted with maximum load pointers
Movement monitored using dial gauges
With particular regard to scaffold anchors, safety harness eye bolts and suspended ceiling fixings it is important to carry out these tests to ensure that the anchors have been installed correctly.
The National Access and Scaffolding Confederation Guidance (NASC) TG4 2004 sets particular criteria for the testing regime.
Proof Tests
These are needed to ensure that anchors to be used in the job have been installed correctly. This guidance applies to all new jobs and to structures with previously installed anchors. A sample of anchors to be used shall be tested to a load of a least 1.5 x the required tensile load; in the case of ties requiring a 6.1kN tensile capacity this means a test load of 9.3kN (where a tie load of 12.2 kN is required this will require a test load of 18.3 kN). 
A minimum of 3 anchors shall be tested and at least 5% (1 in 20) of the total job. If any anchors fail to satisfy this test requirement then the reason for failure will be investigated and the rate of testing at least doubled. 
Site tests need to be carried out by competent person other than the actual installer of the fixings using a test meter with a gauge calibrated within the last 12 months. [click below diagram to enlarge] 

Test results are formally recorded and retained with documentation relating to the project.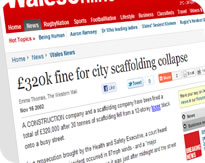 Many recent scaffolding collapses were caused by lack of scaffold ties or by ties into masonry not being adequate. The National Access & Scaffolding Confederation (NASC) technical guidance note TG4 recommends that scaffolds with masonry ties should be subject to a tie testing regime. An example of a recent scaffold collapse is illustrated opposite and in this prosecution tie installation and testing were a significant factor in the HSE's prosecution of the Main Contractor and Scaffold Sub Contractor.